It is not enough for a house to just be easy on the eyes – it needs to be practical and functional too. Which means, apart from all the furniture, it needs to accommodate all your belongings, and that too tastefully. In other words, incorporating smart storage ideas in your home can not only keep clutter at bay and organise your life, but it can also look amazing and provide you with enough space to move around and breathe easy. Not quite convinced? Here are 7 ideas from the home interior designers at BlueMasons that will help you understand.
1- Intelligent way to use a corner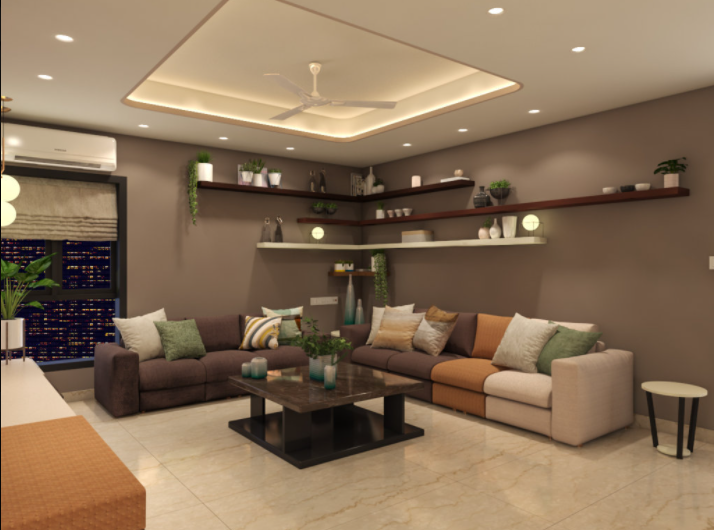 Never ignore idle corners. Why? Check out how sleek and simple wooden shelves, shaped like L, take care of the storage needs in this living area. The fact that they are of different sizes and not aligned uniformly adds to the beauty of this floating arrangement. The open shelves are perfect for displaying everything from vases and potted greens to books, knickknacks, candles and even family photos. Note how white and dark brown have been used as colours to create contrast. The shelves go well with the sofas too and complement the beige and cream environment beautifully.
2- Combined approach in the kitchen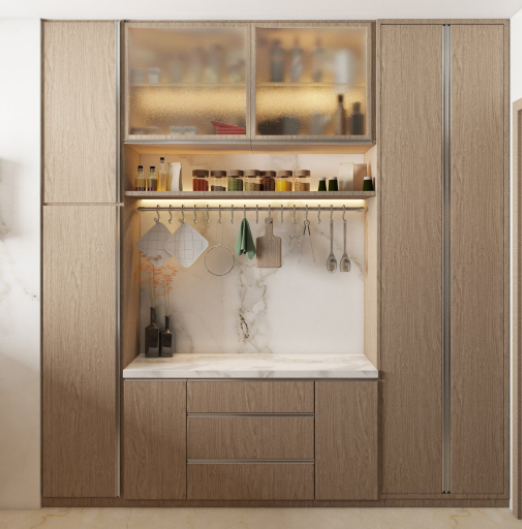 The house interior designers at BlueMasons have done a wonderful job with this wall unit in a modern kitchen. Rendered in light-hued wood, this unit is a stylish combination of cabinets, drawers, open shelves, shelves with frosted glass and an array of hooks. The look is minimalistic and accent lighting add to the convenience factor. The lack of handles adds to the ultramodern appeal. This large wall unit, which uses up the vertical space nicely here, can be used to store everything like spices and condiments that are used every day, pots and pans that you might not want the whole world to see, as well as ladles, chopping boards and tongs which are easy to hang up.
3- Integration is the key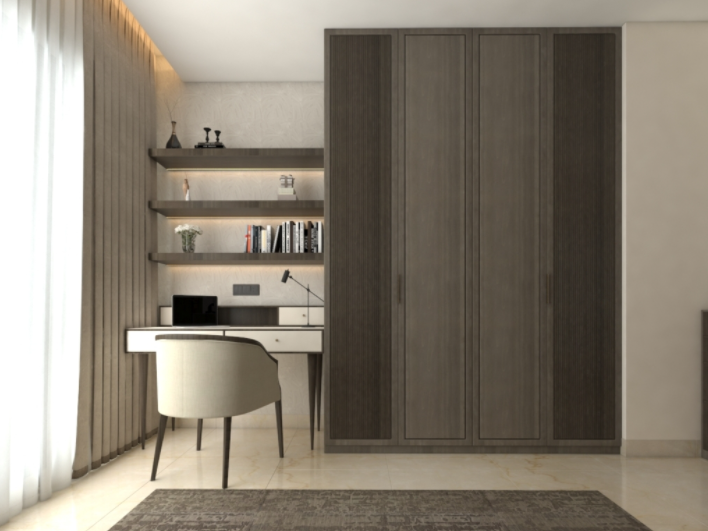 One of the smart storage ideas for small houses you can embrace is the integration of a large unit like a wardrobe or closet and a small unit like a stack of shelves or a compact table. This way, you can make good use of an entire wall. The image above explains it well. The open and floating shelves of the study nook are an extension of the tall and trendy closet on the right. The workstation in white as well as the comfy chair lend contrast here. While the closet can hold everything from clothes and bed linen to valuables and fashion accessories, the shelves can be used to store books, pretty vases, memorabilia, gadgets and so on. The overall look is simple, straightforward and practical.
Also Read: 6 Creative Lighting Ideas that can do Wonders
4- Trendy and wall-mounted affair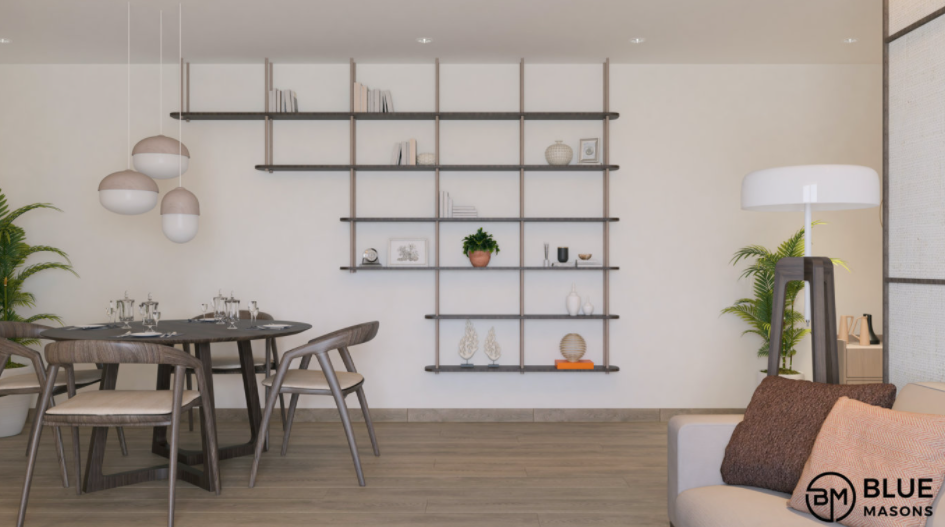 Here is another one of those smart storage ideas for small homes. The shelving unit shown above takes this open plan living area to a whole new level of wow! It is shaped like an inverted staircase, with slim horizontal and vertical lines running across each other. The unit saves up on precious floor area, looks chic and clean, and is perfect for displaying a whole host of objects, from books and flowerpots to photos and decorative accents. Also note how the shelf contrasts the bright cream wall behind it and plays along with the furniture and lamps. Since this unit is lightweight, it can be moved to other rooms as well if the need arises.
5- Clever storage hack in the bedroom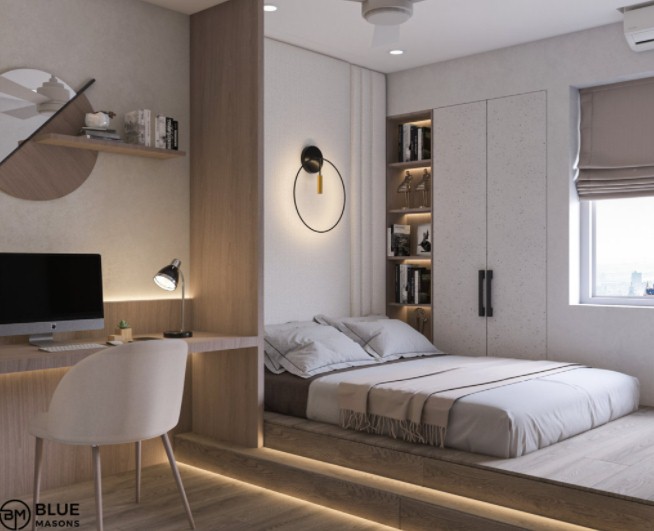 A simple inbuilt closet right next to the platform bed stores most of the things you might need in this room. And the tall shelving unit next to it holds books, knickknacks and photos. As a modern interior design company, BlueMasons made sure to save space in this bedroom without compromising on storage, with this unit. Don't miss how the workstation is separated from the sleeping area by a simple wooden panel and comes with a stylish shelf for everyday essentials. Thanks to neutral and soothing shades like white and beige, this compact bedroom looks inviting and is yet practical.
6- Entertaining and functional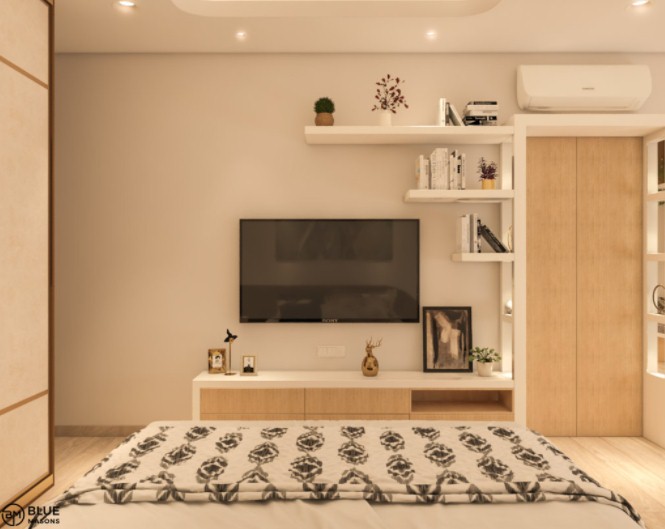 The contemporary TV unit is undoubtedly the highlight of this cream and beige bedroom. If you are looking for smart storage ideas for small apartments, bookmark this. The console table below the TV is neat and can hold remotes, cables, batteries and other gadgets. Its top serves as a display platform for photos and decor accents. But what steals the show is the stack of floating shelves, and they get bigger as they go up. The inverted staircase design of the shelving unit helps it to balance the console table. The open shelves work nicely when it comes to arranging books, indoor plants and odds and ends. And the best part is that the TV plus storage unit takes up a wall, which leaves enough walking room around the bed.
Also Read: Chic Home Furniture Ideas from BlueMasons That You Will Love!
7- Easy solutions for the bathroom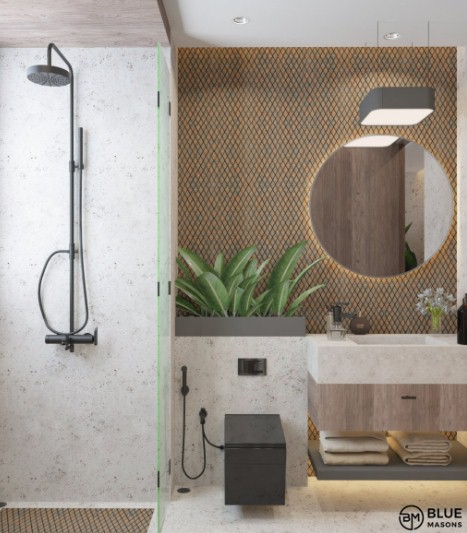 There are so many things you need in a bathroom – from towels and toiletries to cleaning supplies and even a few potted plants! Which is why, the vanity counter you see above is such a smart storage idea. Rendered in elegant neutral shades, just like the rest of the bathroom, the vanity counter features a drawer as well as a floating, open shelf. The drawer is ideal for storing various toiletries or sanitary products, while the shelf makes it easy to access towels. The ledge above the toilet has also been used intelligently to introduce some fresh greenery. If you want, you can use it to organise soaps, shampoos or even a couple of books.
So, what are you waiting for? Give your interiors a smart makeover with the smart storage design ideas discussed above. They are easy to introduce, can work well for small homes too, and the interior design cost involved won't burn a hole in your pocket. Plus, you can always experiment with different textures, materials and colours to make any storage unit interesting or eye-catching. Not sure how to get started? Contact our team of expert designers at BlueMasons and we will help you with a ton of ideas.