Kitchens are the hub of the house and see a lot of traffic. And, with evolving tastes and lifestyle, storage space does not come easy. This is especially true if you have a small kitchen. Small modular kitchens in Kolkata are a good example of space crunch. So, how do you squeeze in the new pots and pans, and the waffle tray you got for your birthday; into that tiny space?
Here's how…
1. You can have a centre work space!
This kitchen design tip is out of this world. It is not possible to have a centre island in your small kitchen. A moveable workspace is the next best solution. A rolling cart with a work surface is ideal for starting your prep before you begin the actual cooking. Once you are done, you can store it in the balcony or a convenient nook in your home. The cart can hold your pastes and chopped vegetables till you are ready to use them.
2. Organise your cabinets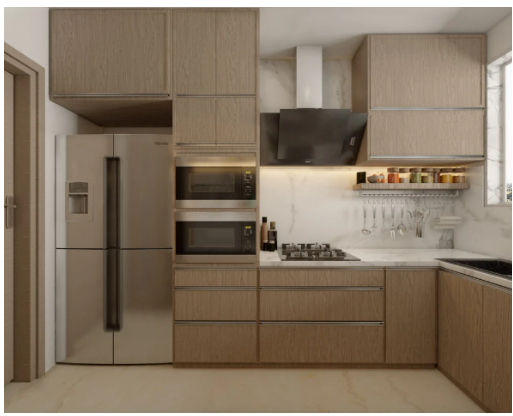 There are many things to consider when designing a kitchen. One is a well-organised cabinet. This is essential when you are short of space. Every hidden corner of your cabinet can be used as storage, if you organise it properly. Some tips on organising are as follows.
Stock up on lid organisers
Spice racks can free up the clutter of umpteen jars
Pull-out trays for your cutlery
Vertical pull-out sections that can be used for food packages and jars
Pull-out slotted sections for plates
3. Storage bench in breakfast nook
If you are fortunate to have a nook to accommodate a tiny breakfast area, use the space under the bench for storing extra pots and pans. You can even store your kitchen linen and table mats under the bench.
Also Read: 7 hacks to get a pocket-friendly modular kitchen
4. Downsize every few months
Pots with broken handles, lids from old pans and chipped or mismatched crockery take up a lot of space. Downsize by removing the clutter every few months. Hoarding groceries that may expire before you have time to use them is a strict no-no. The freed space can accommodate groceries and utensils that you actually need. Simple kitchen designs work best.
5. Avoid dark tones
Designing a kitchen can be fun. And it's easy to go overboard with the colours. But, remember, the darker the colour, the smaller your space will look. If white seems too stark, opt for pastels like greys, lilacs and pastel greens. The light tones will brighten up the space, making it look bigger than it is.
6. Go vertical
Simple kitchen designs for small houses work best. And if you take every inch into consideration, there is a lot you can do in that tiny space. The space above the overhead cabinets is often ignored. This valuable space can store the items that you don't use on a regular basis. A step ladder will help you bring things down when needed.
7. Modular storage is the way to go
Modular kitchen storage is perfect when you are short of space. From revolving tray sections to using dead storage space in corners, modular kitchen accessories have it all. When you have a space crunch, go modular.
It's all about thinking out of the box. Storage can be found in the most unlikely places. And once you have it covered, you will have a tiny kitchen that has ample space and a lot of class!