You have probably heard people say how the kitchen is the heart of a home. Well, it is. It feeds you, nourishes you, lets you cook with love, and even have cosy chats with loved ones while the meals are getting prepped. Naturally, it makes a lot of sense for this space to be both aesthetically pleasing as well as functional. Moreover, space constraint is a real problem for most Indian homeowners, which means you need some modern kitchen ideas so that you can make the most of what you have. Read on.

1. Be smart with colours
Using white and only white is one of the popular modern small kitchen design ideas that you can try out if you like minimalism and simplicity. Glossy surfaces can make it easy to keep white clean as well. Or you can use two tones, like white with dark grey, teal, midnight blue, wine red, or black. Using the pastel tone of blue or pink can also lend a classy vibe.
2. Sleek or no handles
Handles are an important aspect of modern, simple kitchen design, even if they seem trivial. Make sure the cabinets have sleek, minimalistic handles or no handles at all. This will give the kitchen an overall clean look.
3. Experiment with backsplash tiles
Tiles can lend a lot of personality to your backsplash as well as kitchen. Choose carefully though. For instance, in an all-white kitchen, tiles in a dark shade of black, blue, or red will look great. The material can be stone or mosaic. Just make sure they are easy to wipe clean.
4. Ensure smart storage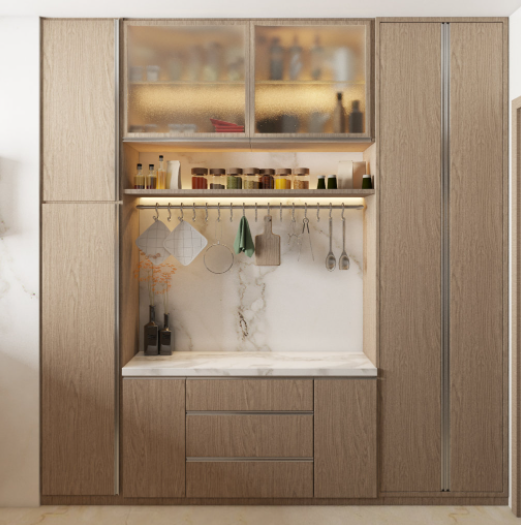 This is one of the best modern kitchen interior design ideas to remember if you are short on space. Use the walls judiciously and make the most of their height. Having cabinets both above and below the countertop will help you organise things easily. Or you can go for a stylish unit like the one shown here, and combine open shelves, cabinets and hooks.
Also Read: 7 Things to Keep in Mind While Designing a Small Kitchen
5. Consider open layout
Among all the modern small kitchen ideas, this one steals the sho
w as it offers you a solution from the very moment your home is getting constructed. An open layout will basically merge your kitchen with the dining area, making it seem bigger and easing movement and communication as well.
6. You can just use one wall
If you live in a studio apartment, this idea is perfect for you. Just one wall can be used to set up a modern and functional kitchen. The sink, cooktop, and fridge can be lined up one after another, while the oven, toaster and any other essential appliance can be accommodated in an inbuilt shelf.
7. Use wood for warmth and elegance
Natural materials never go out of style, even when it comes to kitchen modular ideas. So, if you have a big kitchen, one set of cabinets on one wall can be in wood, while the cabinets on another wall can be in a sober tone like white, steel grey or beige. Even if your kitchen is small, you can use wood for open shelves and keep the cabinets white or pastel.
Also Read: 7 hacks to get a pocket-friendly modular kitchen
8. Take lighting seriously
Using different kinds of lights can take a modern, simple kitchen design to a whole new level. Trendy pendant lamps, especially those that come in an industrial chic style, can make a kitchen shine, literally. You can go for sleek track lights too, which improve visibility. Strip LED lights can be used in false ceilings and under cabinets or shelves for ambient illumination.
All in all, these modern kitchen interior design ideas are sure to help you brainstorm and come up with a plan. And if you are unsure or need further guidance, the house interior designers at BlueMasons can take care of it.